Attention little fairies! After using scented candles for so long, do you really know how to use them properly?
In recent years, more and more little fairies have become obsessed with scented candles dipped in sweet air to make them feel great! However, you should know that the use of scented candles is also very specific. Come and see if you have done all these steps "elegantly" correctly?
When fairies use scented candles, they often find that with daily use, the wax body becomes dark and pitted, which is completely different from the uniform and flat wax pool of "alien houses" of the same! the fall! ~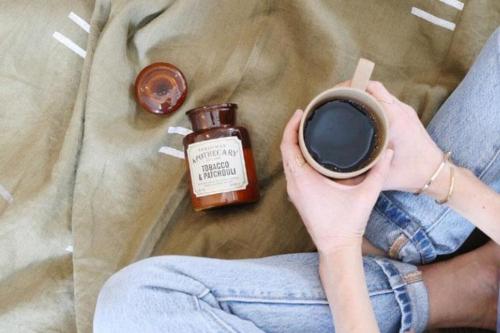 So, what is the reason why scented candles are getting more and more "LOW"? How should we elegantly complete the set of steps for using scented candles? The next editor will solve the mystery~

[Professional technique and everyday use]

1. Igniter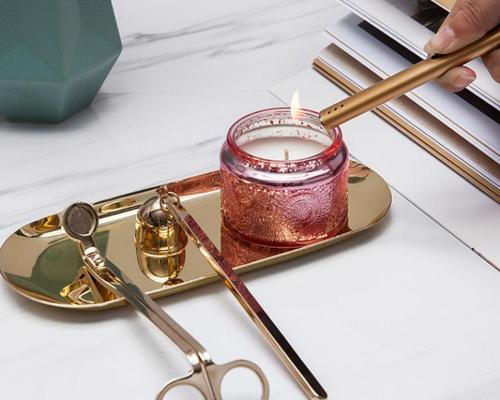 First of all, before entering the scented candle pit, the most important thing you should do is to prepare a "three-piece set" of scented candles, namely the igniter, candle extinguisher and candle wick trimmer; , Short matches are safer, can prevent burns, and prevent match residues from entering the wax bath, which will affect the appearance.
2. Light extinguisher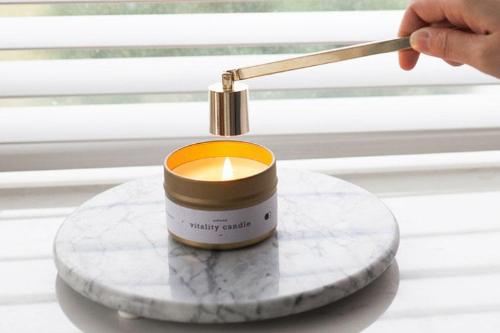 The choice of a fire extinguisher for candles is especially important. Many people blow out the candle immediately after using it, and this will not only cause the candle liquid to splatter, affect the smoothness of the wax bath, but also produce smoke and then reduce the style of using scented candles~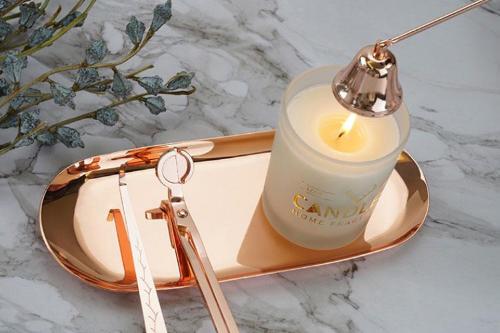 Conventional fire extinguishers include a bell (lid) and a candle hook, and the fire extinguisher extinguishes the candle by pressing the candle wick into the candle reservoir, making it easier for the charred part of the candle wick to fall. in a wax bath. At the same time, the candle wick is easy to break, so it is recommended to choose a candle extinguisher in order to "gently" extinguish the candle.
3. Candle wick scissors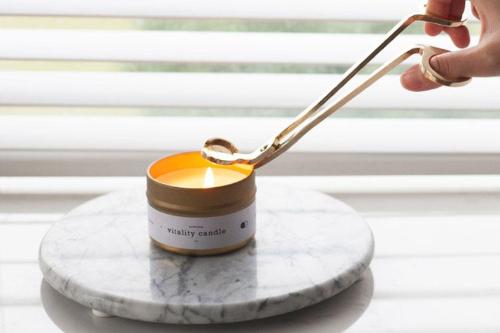 The last thing to do is trim the wick of the candle. In order for the scented candle to burn more evenly and fully, we must cut off the charred part of the wax wick each time before using the scented candle (almost 7.5 pixels is enough). To prevent these cut black wax wicks from falling into the wax bath, they must be cut with candle wicks~

[Note the importance of the first burning]

In the process of using scented candles, the first burning is especially important. If you light a candle for the first time, if you extinguish it before the surface of the candle melts evenly and a full wax puddle does not form, it will easily appear » Memory hole phenomenon, and then the candle can only dissolve in the center, and the more it burns, the uglier it is, which breaks the hearts of little fairies.

The correct method is to place the candle horizontally on the table the first time you burn it and try to ensure a burning time of around 3 hours depending on the size of the wax body to avoid annoying memory holes. phenomenon (if you're worried about the candle burning too fast, you can put it in the fridge for a few hours before it starts to burn).

[Precautions after use]

After mastering the above two points of knowledge, you can basically guarantee the basic experience of using scented candles. If you want to further enhance the meaning of the ritual and protect the wax body, you need to pay attention to the following points:< /p>

1. After the first burn, each burn is guaranteed to last less than 3 hours

After the candle burns for more than three hours, the temperature in the container will get higher and higher, so that part of the wax oil is ignited, causing problems such as affecting the aroma, so after the first burning, try to control the burning time of the scented candle time within three hours.

2. Position the wick after extinguishing the candle

If the wick of a scented candle is bent after use, you must remember to straighten the wick before the wax oil has completely solidified to prevent the wax puddle from burning too much due to the wick tilting to one side when burning. next time even condition.

3. Close the lid when not in use

Finally, when we don't use scented candles for a long time, we should cover them well and store them in a cool and dry place to prevent the wax body from drying and cracking or dust and moisture from entering. into the spark plug body and damage the spark plug.

The above are points to pay attention to when using scented candles~ Little fairies, get up soon~