What scented candles are best?
If you can smell the fragrance like in a high-end hotel as soon as you open the door, when you get back home, it will definitely make people feel more relaxed and comfortable~ Although the smell cannot be seen, heard, or touched, but the sense of smell How a feeling can leave a very deep impression. Today's aromatherapy isn't just about pleasant smelling, some aromatherapy can soothe anxiety, relieve stress, and some herbal extracts can even help you fall asleep effectively. In addition, many scents are also beautifully designed and are also good to use as a decoration when not in use. This is really another good thing to increase happiness!
After years of "scent research", I've found that although home fragrances seem varied, they actually fall into three broad categories: candles, spray fragrances, and non-flammable fragrances. Scented candles are inconvenient to use, and there is nothing to say, when ignited, an open fire is needed, and when extinguished, it will smell strongly of smoke. Or maybe I have an obsessive-compulsive disorder. I always feel that the candle is burning only around the wick, and the same amount of money is a big loss! The spray can be understood as an air freshener, and it evaporates in a maximum of a few minutes, which is tantamount to spraying loneliness. People with pets and a runny nose should not use it.
Therefore, the only choice is fireless aromatherapy, and among fireless aromatherapy, I recommend a reed diffuser and essential oils for aromatherapy. Their bottles are usually very pretty, and some of the canes are also decorated with flowers, which is very romantic. Aromatherapy without fire is also pointless to use, just replace it after it has evaporated, and then put your energy into choosing scents~
If I use it at home, I do not recommend buying a big brand, because many brands have also released some imitation fragrances. After all, a fragrance cannot be labeled with a logo~ If the remaining money is not weak, buy a few more and put them in every area. Isn't one fragrant?
Next, I will recommend some aromatherapy products that I often repurchase. They are good for personal use or as a gift.
TOP 1. Aromatherapy without fire - gardenia bloom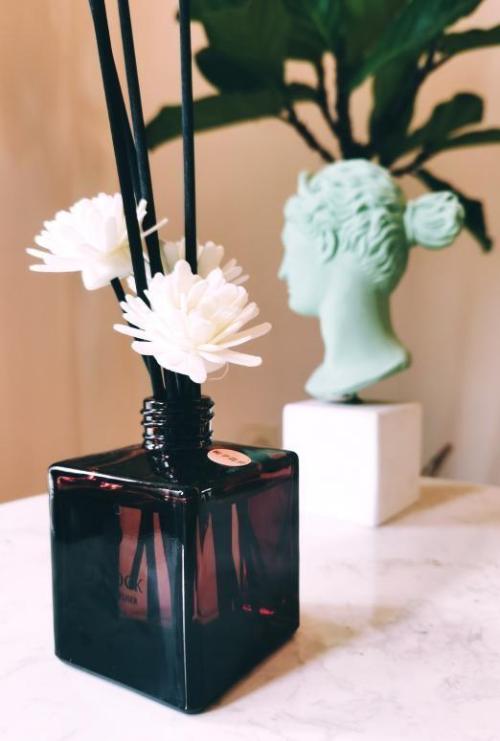 Top notes: rose, violet, lemongrass
Middle notes: jasmine, gardenia
Base notes: sage, sandalwood, patchouli
Roke Aromatherapy uses the natural aroma of plants as a base, restores the original scent of gardenia and allows you to experience the taste of summer all year round. The taste is relatively strong, suitable for a bathroom or large living room, full of flavor and unhurried. It's like growing a large gardenia at home, with a little creaminess, the style is more elegant, sweet but not greasy. In particular, the addition of sandalwood and patchouli to the base notes gives a feeling of coldness and depth. The bottle body is an advanced ins-style all-black design, and the capacity is large enough not to be replaced frequently.
BEGINNING 2. Crystal diffuser - sage and sea salt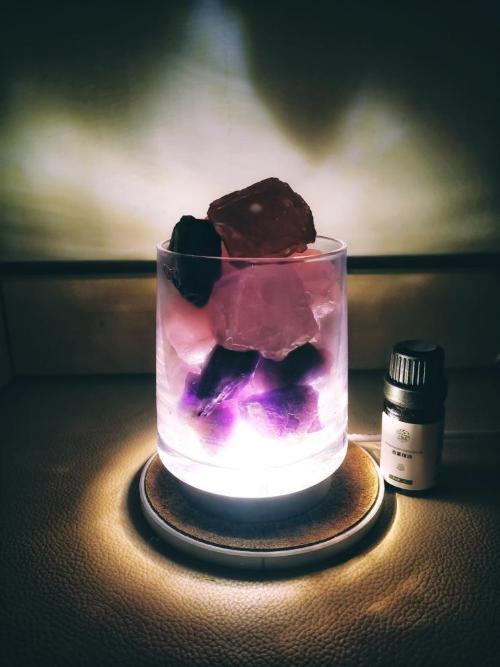 Top note: sunflower seeds
Middle note: sea salt
Base note: sage
This is a gift from friends, and I believe it is no less than many online celebrity brands. When I opened the packaging, I was amazed, all the accessories were tightly packed and the glass fittings were intact. The matching greeting card is also decorated with a high quality fire emblem, which is full of ceremony. In fact, I used to buy a spar aromatherapy, but found that the surface of the spar is easy to get dusty after using it for a long time. It will not have this problem, because it is good to cover the built-in glass cover when not in use.
This little night light is also not gaudy at all, with a small switch to adjust the temperature and brightness, it's very warm to turn on the phone at night. By dripping the essential oil, it can also diffuse the fragrance better. The spar in the glass bottle will be reflected on the wall through the light, creating various halos, which is very artistic.
TOP 3. Xiaoxuan window - green skirt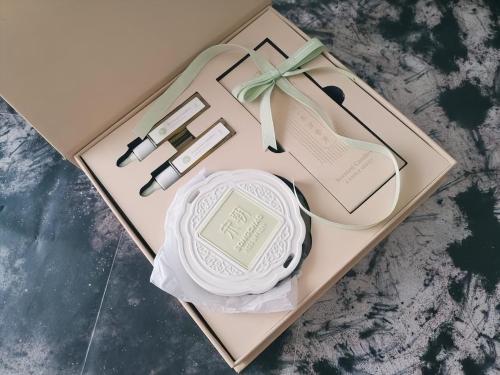 Top notes: bitter orange, blood orange
Middle notes: geranium, jasmine
Base notes: amber, coumarin
I chose a fresher note of lime with a rather fruity green undertone. Every time I get into the car from the outside, I smell the fragrant smell of beans at the end, and the overall scent is very suitable for small spaces with a little peculiar smell. In addition to the car hanging in the closet, a walk-in closet is a good choice. When using, add three to four drops of essential oil, and if the smell is light, add a few drops. Aroma essential oils are naturally extracted and stored in a sealed dropper that can be used for a long time.
Such a beautiful fragrant product with a unique aesthetic taste in the national style is also a good choice for the elderly.