Fragrance for the home | White noise of candles and the smell of temples
I have always liked scented candles, I often use them in cold weather, the scent is strong and the light is soft, a little comforting in winter.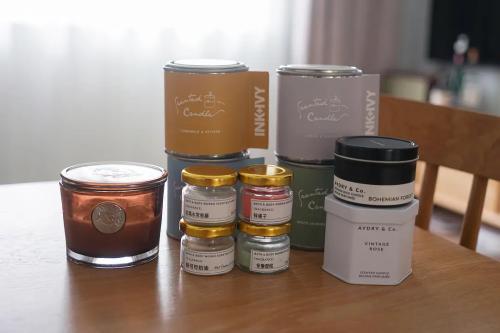 About Candle Lighting Tools: There are many exquisite candle extinguishers, wick scissors, etc. sold online, but I haven't bought them yet. Candles at home all have their own lids that can be extinguished directly. The wick of the candle needs to be trimmed each time before it is lit, and you can also replace the small eyebrow scissors that lie idle at home. The only thing I need is an extended igniter. I bought two hot pot igniters for 15 yuan. It is more durable than the candle igniter that comes with candles, and the price is also cheap. Everyone can choose what they need.
The most loved and most used is by Aquiesse. It tastes like Madeleine citrus tea, 141g, and the price starts at $200. The diffuser is very good, the whole room will be filled with the warm smell of fruit tea, a little sweet but not greasy, this is my redemption. In addition, there are also travel sizes from the early 50s that are handy for testing scents.
The container is made of thick glass. It is small, but very large. Has texture for gift and personal use. But also because it is too big, a suitable carousel and smart circle are not common among other candles, and the memory circle is easier to burn. If you don't want to waste money, you can wrap the package in foil. It.
AYDRY&CO is also a cheap and smelly brand, and I bought two in a row. One classic rose with white cotton wick, 99g, about 100 yuan. The aroma is also excellent, the key is that the taste is deeply loved by rose lovers and sweet dewy roses are always in full bloom at home.
Another one is Bohemia Forest with an ebony core, 85g, and the price is also around 100. After ignition, it has a rich smell of pine and cypress. This size is small, and after a while, it will basically burn to the ground.
These two pieces belong to INK+IVY, bought offline, about 70 pieces in total. I tried to look for the same model, but it seems that it is no longer for sale, which is a pity.
The reason I say "sorry" is because I really like the smell of green candles. The refreshing aroma of jasmine cucumber is the freshest of all candles, and the aroma is not bad either. The purple version is blackcurrant geranium, and the sourness is also good, but the opening of the aroma seems to be weaker. Oh yes, these two candles are quite difficult to burn through evenly, and there are still pits and holes.
Even though it's no longer for sale, I still have two ~ one is chamomile and vetiver and the other is seaweed.
The last thing I want to share is a few packaged candles from Bath Body Works. I love buying their body lotion, so I chose a few packaged candles to try out the flavor. Contains notes of fresh mandarin, pink ivy, winter cedar & hot cocoa cream.
Following actual experience, this is probably due to relatively few timesmeasure, the aroma is not very good, cedar and cocoa are a little richer, and the smell of rose and orange can only be felt when they are close. I don't know if a bigger bottle would be much better. The taste of cedar and cocoa is quite restored.