Tutorial|Try homemade vanilla candles to spice up your garden banquet
Manual
Words
Floating candles warm with their flickering flame. They are very easy to make with metal molds and fragrant beeswax. These flower-shaped floating candles will be the highlight of any party.
When you see these beautiful candles, don't think that making them is very difficult. This time let's see how to make DIY floating candles.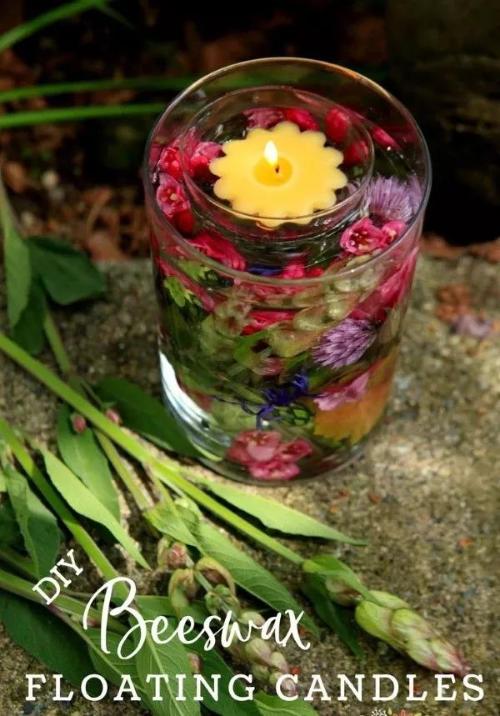 Flowers are always uplifting when you give a bouquet to a loved one, place it indoors to decorate your home, or plant it in your garden to attract bees and butterflies. Flowers will add zest. and the color of life. The next time you're feeling a little down, go out and smell the roses to brighten up your day.
01
Floating
candle
The following materials can be used to make 6 floating candles
Materials:
8oz (225g) beeswax
1 teaspoon mold grease
Wick card of 6 wax threads
6 metal mini egg tart molds
Large glass vase
Fresh or artificial flowers
Double boiler
Kitchen scales
tray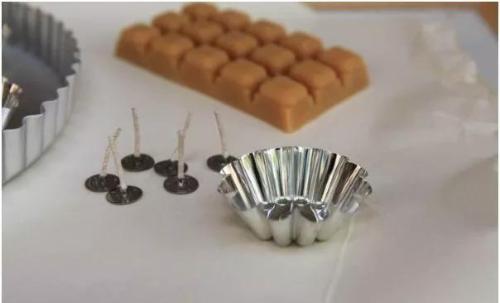 First, melt the beeswax in a water bath. Be careful that it completely melts and turns into a liquid. At the same time, make sure the inside of the egg tart pan is clean. Place the mold in a baking sheet and place a sheet of paper under the baking sheet to protect the countertop from possible splashing.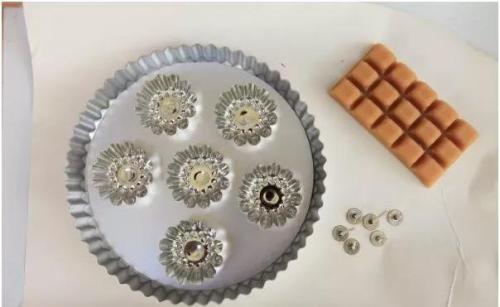 Carefully pour the wax liquid into the egg tart mold, making sure it is horizontal and that the wax liquid does not drip onto the edges.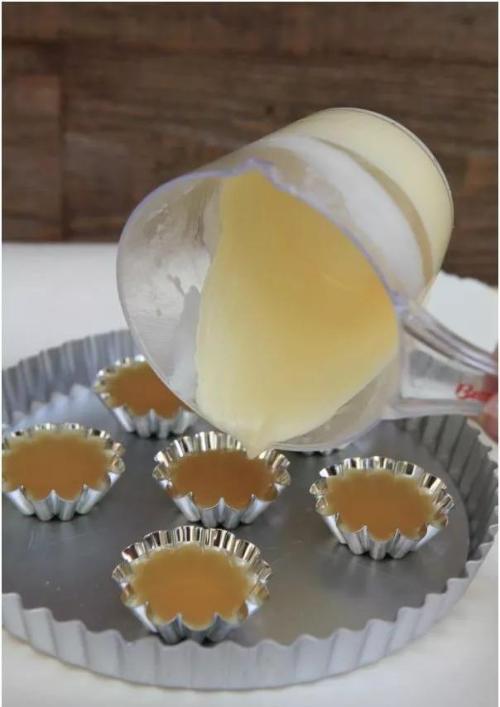 As the wax cools and the edges become less transparent, a wick should be inserted into the center of each candle. The wick should be made short so that it stands up easily.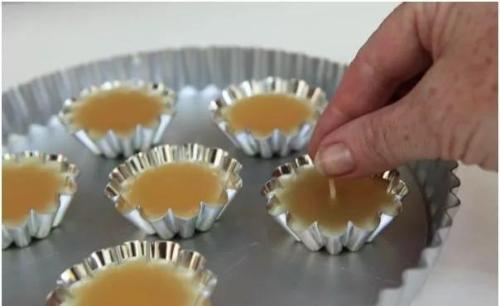 Let the egg tart mold not move, let it cool for 24 hours, after which it can be poured out of the mold.
Notes:
When the candle needs to be removed from the mold, the candle can be used to heat the bottom of the mold to facilitate removal; you can also put the mold in the fridge for ten minutes and then try Freeze for ten minutes, but don't leave it in the freezer for too long or the candle will crack.
Using these floating candles will create a romantic landscape. Place freshly cut flowers in a large vase and fill with water to cover the flowers. Flowers can go to the garden and choose the ones that look beautiful. My choice included green onions. and sage, which weren't perfect, but looked great.
Immerse the flowers in a large vase and light some candles to float them in the water. You can also use a good terrarium to swim in and separate the flowers if you like.
That's it, it will be a decoration for your themed table or a gift for your girlfriend, the flowers can stay vibrant for days when immersed in water.
02
rosemary
Grass candle
Compressed herb candles are a unique way to preserve the beauty of your garden. The best use of these candles is rosemary, and you can use herbs that are readily available in your garden.
A blend of essential oils for every occasion and season, evergreen vanilla candles infused with earthy scents. You can also try making candles with mint, lemon, rosemary, and lavender to symbolize other seasons.
The operation is very simple, candles are beautiful and romantic, and it is recommended to make candles that have a therapeutic effect and are right for you.
Materials:
Sprigs of thyme
Lavender flowers
Rosemary leaves
Essential oil of rosemary
Beeswax/soy wax
Glass bottle
Attention
It should be noted that rosemary candles are woody, hard and difficult to fit on the side of the bottle. The candle will burn out during the ignition process. For safety reasons, be sure to use thin or fragmented branches and leaves pressed against the bottle wall, the key is that no matter what type of vanilla you choose, you need to place it as close to the bottle wall as possible, away from the flame relative to the glass bottle.
03
Sea shell beeswax
tea candle
Beach lovers will love these beautiful shell-shaped beeswax candles in glass containers filled with sand. I live near the ocean and whenever I go to the beach I love to collect seashells and create something special. Tea candles made of beeswax with shells will be a wonderful gift and a memorable souvenir after a holiday on the beach or at sea.
If you live far from the coast and can't collect shells, you can buy them from local cheap shops.
Material:
Clam and oyster shells, deep enough to hold some wax, small in size, reminiscent of a tealight
Double boiler
beeswax
Wick of wax thread
Sand and small shells for decoration
Glass bowl
Tray
First, melt the beeswax in a double boiler, making sure that it is completely dissolved in the liquid.
Clean the shells and place them in a tray filled with sand. The sand will help the shells stay stable while the wax is poured into them.
Place the wick in the center, the wick should be short enough to easily stand upright.
Let the shell candles cool for 24 hours.
When the candle is ready, place it in a glass container filled with decorative sand and small shells.
You can also try colored sand, I personally like natural white sand, but different colors can add a bit of spice, like light blue, purple, green, pink, which will make these terrariums look like colorful mermaids.
You can place tea lights around the glass container from time to time. Shells of different shapes, such as barnacles, scallops, and one or two dried plants, will work very well together.
The images above are taken from the Internet
You may like these various beach glass tea lights, which will also be a bright accent in your garden design.
Want to learn more plant secrets?
Do you want to build a small garden with your children?
A fun gardening activity with the kids?